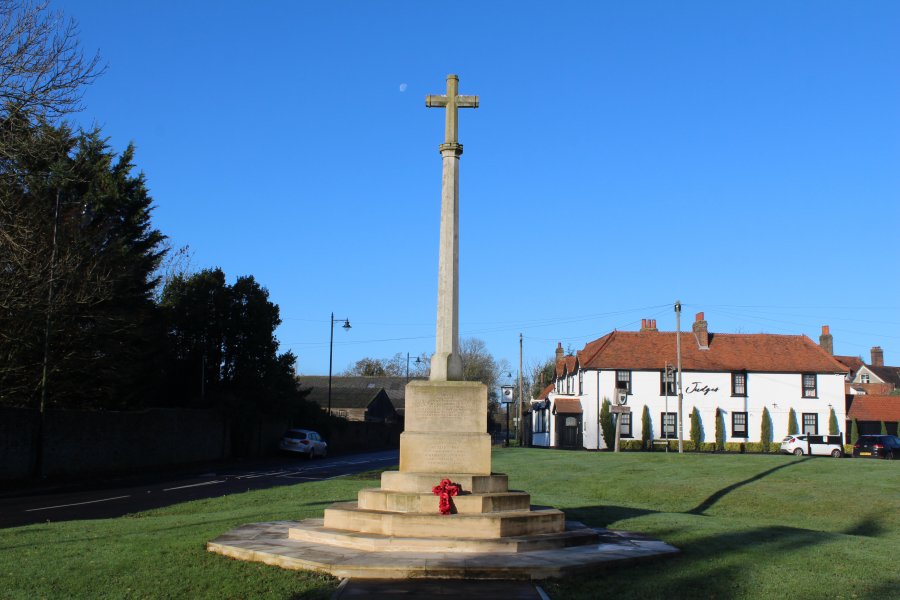 "Jesus called them together and said, 'You know that those who are regarded as rulers of the Gentiles lord it over them, and their high officials exercise authority over them. Not so with you. Instead, whoever wants to become great among you must be your servant, and whoever wants to be first must be slave of all. For even the Son of Man did not come to be served, but to serve, and to give his life as a ransom for many.'" (Mark 10:42-45, NIV)
The temptation of our society is to try and grasp leadership and status, to seek to have power and authority over others.  This should not be the case for Christians: to be great in God's sight is to be a servant; the greatest is the one who serves most.  It's not an easy way of living, but it is the right way.  On Remembrance Sunday, we particularly remember those who have suffered and died in conflict, to bring about peace.  Mark's gospel tells us about Jesus Christ, who came as a servant, and to win our peace with God with his own death.  I hope that you'll be able to join us online at 10:45am for our Sunday morning service.
Sunday Services
With the new restrictions in place, we are no longer able to meet in person.  We will be continuing to livestream the service from St Andrew.  This Sunday's service will start at 10:45am (instead of 10:30am), and will include an Act of Remembrance at the beginning.  Details of how to join the online services are on the website and are advertised on our Facebook page.
Audio Recordings
Because the service is now live, the audio from the 10:30 service will be available (01707 927907) later in the afternoon, once is has been processed. As well as the 'dial-in' service, audio recordings of all services are also available throughh SoundCloud.
Church Family Fellowship
After the Sunday service, we'll have coffee together via Zoom (details on the website); if you'd like to be part of the meeting, please email me.
Lockdown 2.0
As we re-enter lockdown, if there ways that we can help, do please be in touch with me.  This will be an anxious time for many people in our community, especially with renewed separation from friends and family, however, we are able to offer certainty and hope from a loving God.  As we approach Christmas, we remember that Jesus came to dwell with us - God came to where we are, and is able to be with us still.  The times may be uncertain, and the future unknown to us, but it is not uncertain or unknown to God.
Peter Robinson
Ann, Jeff, and Claire would like to thank everyone for all their support, particularly for those who were able to join them for Peter's farewell at St Andrew on Monday.
Advent and Christmas
With the new restrictions in place, It is even less clear now what might be possible for us to hold during Advent and Christmas.  If we are permitted, I am hoping that we will be able to record some carols in St Thomas, and create an online carol service.  If you would be willing to be part of a 'Christmas Choir', please be in touch with me (chris@norcuff.com).
Christmas Online Market
We are not able to hold our usual Christmas fair, so this year a number things are being provided online and to order:
A raffle for a Christmas hamper (worth £50.00) at £2.00 a ticket (on sale from Gill Hall, 01707 874872 & Doreen Sheekey, 07838 919829);
Baskets made to order containing food or toiletries (Gill Hall, 01707 874872)
Christmas marmalade (Kathy Shingles, shingleskathy@gmail.com, 01707 878860)
Praying at Noon
Please can I encourage you, when possible, to stop at noon and spend a few minutes praying - we may be physically separate, but we can still pray together; we'll email out possible areas for prayer each week.  If you would like to make any suggestions, please email prayers@norcuff.com.
How to join us live
The website has the information on how to join our live services and virtual coffee.  Do feel free to share the links to our services with friends and relatives; everyone is very welcome to join us, no matter where they are in the world.