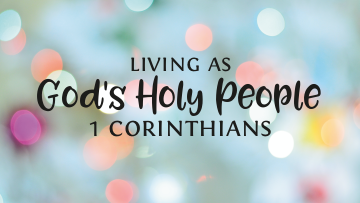 To the church of God in Corinth, to those sanctified in Christ Jesus and called to be his holy people (1 Corinthians 1:2)
Paul wrote the this letter to a church that was far from perfect. There were factions, divisions, immorality and conflict, yet he described them as holy people and the church of God. How can this be?
You would be very welcome to join us at 10:30am in St Andrew, Cuffley, or at 8:30am in St Thomas, Northaw, this Sunday, as we start to read 1 Corinthians together and see how Christians can be God's holy people.
The 10:30am Sunday morning service will also be streamed.  This will start at 10:25am, and can be accessed directly via Facebook or YouTube, found on our website, and is advertised on our Facebook page and YouTube channel.
Children's Church
Our children's church meets this Sunday morning in the Undercroft (underneath the main building). Children are welcome from 10:20, and will join us in the main part of the building at the end of the service.
Morning prayer
You would be very welcome to join us for a short service of Morning Prayer in St Andrew at 10:00am on Wednesday morning.
Coffee Shop
The Coffee Shop will be taking a short break until Wednesday 1st February.
Daffodils
We have been donated some daffodil bulbs for planting at St Thomas. If you'd like to help plant some of them, please be in touch with Chris, the vicar.
Praying during the week
We try to send out an email each week with suggestions for your prayers. If you would like to make any suggestions, please email prayers@norcuff.com.
How to join us live
The website has the information on how to join our live services.  Do feel free to share the links to our services with friends and relatives; everyone is very welcome to join us, no matter where they are in the world.