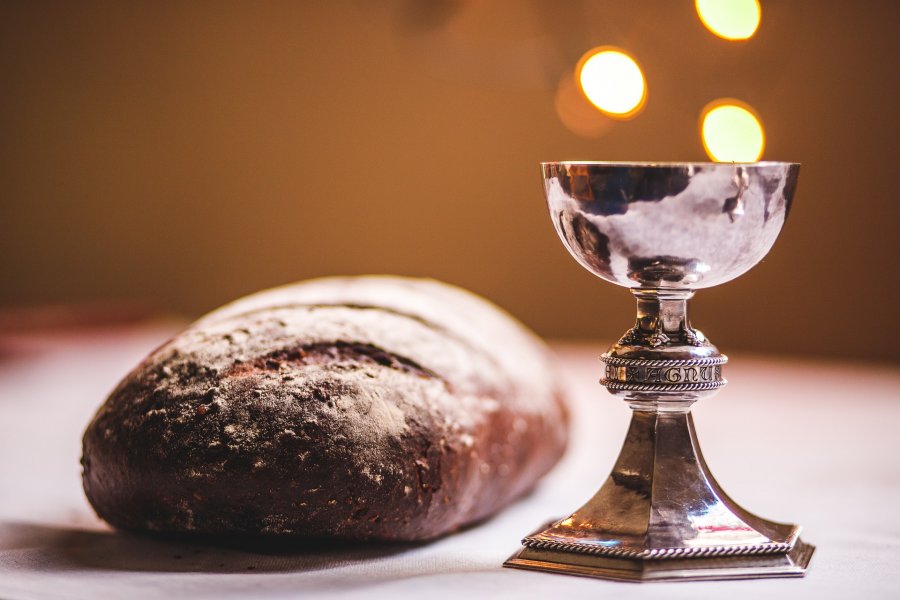 "While they were eating, Jesus took bread, and when he had given thanks, he broke it and gave it to his disciples, saying, 'Take it; this is my body.'" (Mark 14:22, NIV)
The Lord's Supper, Holy Communion, the Eucharist: why do we celebrate it? What does it mean? Why do we miss it so much at the moment? How can a simple meal, 2,000 years ago, consisting of bread and wine mean so much to Christians in the 21st century?
I hope you'll join us online at 10:30am for our Sunday morning service, as we look at Mark's account of the Last Supper.
Sunday Services
This Sunday we will be livestreaming the service from St Andrew.  Streaming for the 10:30am service will start at 10:25am, and can be accessed directly via Facebook or YouTube, found on our website, and is advertised on our Facebook page and YouTube channel.
Meeting in person
Following the Prime Minister's announcement earlier this week, we will be meeting together in our buildings as schools restart. Our first full Sunday back will be 14th March. The first few Sundays will reflect a crossover period, as we move from 'online only' to a mix of online and in-person.
We will still need to follow social distancing regulations, there is still no singing, and bubbles cannot mix inside or outside.
No-one should feel under any pressure to attend in-person services - the online services will continue for the foreseeable future.
Sunday 7th March: a largely on-line focussed service at 10:30am from St Andrew. You are welcome to attend in-person, but the service will be organised around our on-line provision.
Sunday 14th March (Mothering Sunday): 8:30am service of Holy Communion at St Thomas; 10:30am service at St Andrew (also live-streamed).
We also intend to open St Thomas from 9am to 3pm, where possible, on Tuesday, Wednesday Thursday each week, beginning on Tuesday 9th March.
Audio Recordings
Because the service is now live, the audio from the 10:30 service will be available (01707 927907) later in the afternoon, once it has been processed. As well as the 'dial-in' service, audio recordings of all services are also available through SoundCloud.
Church Family Fellowship
After the Sunday service, we'll have coffee together via Zoom (details on the website); if you'd like to be part of the meeting, please email me.
Holy Week and Easter
Easter Day this year is the 4th April. In light of the new regulations and guidance, I'll be looking carefully at the services we can run during Holy Week and Easter.
Wednesday Prayer @ 10am
We have started a short meeting to pray together each Wednesday morning at 10am.  We're still exploring how it works, but at the moment we meet for about 20 minutes, so that there's plenty of time to make a drink before the Virtual Coffee Shop.
Wednesday Evening Bible Study
On Wednesday evening at 7:30pm, I'll be thinking a little bit more about the Bible passage read on Sunday morning.  I'd love for you to join me for no longer than 60 minutes as we look at little bit more at God's Word together.  Join via Zoom: https://zoom.us/j/97466572556.
Praying during the week
Please can I encourage you, when possible, to stop at noon and spend a few minutes praying - we may be physically separate, but we can still pray together; we'll email out possible areas for prayer each week.  If you would like to make any suggestions, please email prayers@norcuff.com.
Foodbank
The foodbank collection is this Wednesday. Please be in touch to arrange deliver to the vicarage, or to have donations collected. More details are available on the website.
World Day of Prayer
For those who would like to take part in this year's World Day of Prayer service, there are now two options:
1) There is a locally-based livestream service from St Mary's Church, Cheshunt (which is part of the team with St James, who would have been hosting this year) on Friday March 5th at 11am. This service will follow the normal format with a service booklet to follow; the link to watch this service should be at www.facebook.com/StMaryCheshunt.
2) There is an international service created by the team in Vanuatu itself. This service may not follow the booklet directly but we understand it to be based around it, with some extras too. It can be watched at any time.
If you would like a service booklet for either service, please contact Anna Kilgour (anna@kilgour.org.uk / 07773392048) and we will get a copy to you.
If you would like to donate to the World Day of Prayer fund, this can be done online, or by bringing an envelope containing your donation and labelled WDP to the Vicarage for us to pass on.
How to join us live
The website has the information on how to join our live services and virtual coffee.  Do feel free to share the links to our services with friends and relatives; everyone is very welcome to join us, no matter where they are in the world.