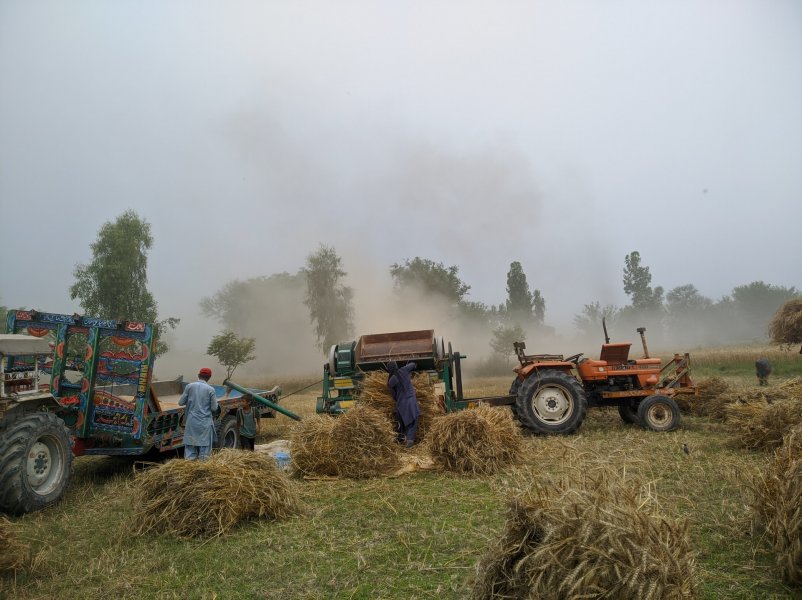 "One day Ruth's mother-in-law Naomi said to her, 'My daughter, I must find a home for you, where you will be well provided for. Now Boaz, with whose women you have worked, is a relative of ours. Tonight he will be winnowing barley on the threshing-floor." (Ruth 3:1-2, NIV)
Last week, the answer to Ruth and Naomi's situation was clear - an eligible bachelor named Boaz. As we start Ruth chapter 3, however, several weeks have passed, and it looks like a marriage is no closer. In order to resolve this, Naomi concocts a bold plan of action. The plan is highly risky for Ruth: she will need to trust her mother-in-law and her redeemer totally if she is to be safe.
I hope that you'll be able to join us in-person or online this Sunday, as we look at the second chapter of Ruth together. Why not spend some time reading the whole of Ruth before we look at it as a church family.
Sunday Services
You would be very welcome to join us at either of our in-person services this Sunday. Please note that we are in Tier 2 restrictions, meaning that there should be no indoor mixing with anyone not part of your household or support bubble.
Our 8:30am Sunday service of Holy Communion resumes in St Thomas, Northaw.
The 10:30am Sunday service will be taking place simultaneously online and in-person at St Andrew.
Please use this form, or contact me directly (chris@norcuff.com, 07446 516945), to let me know that you are planning to attend.
The live-streamed service will start at 10:30am, and can be accessed directly, found on our website, and is advertised on our Facebook page.
Audio Recordings
Because the service is now live, the audio from the 10:30 service will be available (01707 927907) later in the afternoon, once it has been processed. As well as the 'dial-in' service, audio recordings of all services are also available through SoundCloud.
Church Family Fellowship
After the Sunday service, we'll have coffee together via Zoom (details on the website); if you'd like to be part of the meeting, please email me.
Advent and Christmas
As we get further into December, we are able to be a bit more precise about our plans, although not totally!
Online 'DIY Christingle' Service
Outdoor Carols at St Thomas, 5:30pm 20th December
Online Carol service, evening of 20th December
Online Children's Nativity service, 24th December
Midnight Service (online, or in person), 24th December
Christmas Day Celebration, 25th December
Christmas Bake Along
At 2pm on Saturday 12th December, you'd be very welcome join in with a family Christmas Bake Along (with Martha Collison from Bake Off). All the details are online, and linked to from our facebook page.
Outdoor Carols at St Thomas
We can't sing inside, but we can sing outside. Premier Christian Radio are broadcasting a short carol service (15 minutes) at 5:30 on 20th December. We'll play the carols somewhere outside St Thomas for us to sing along with. Print off the carol sheet, grab a torch, wrap up warm, and join us to sing a few carols together.
Christmas Market
A huge 'thank you' to all those involved in the online Christmas market. The market has now closed for 2020.
You are still able to purchase home-made marmalade from Kathy Shingles (shingleskathy@gmail.com, 01707 878860).
Foodbank
In preparation for the January collection (6th January), you might consider a 'Reverse Advent Calendar': every day in Advent, put one item aside for the foodbank. By the time we get to January, there will be around 25 items ready to take to the foodbank.
Local Works
There are a few local developments to highlight:
Station Road in Cuffley will closed at the railway bridge from 9am Monday 14th December until 11am Sunday 27th December (more details);
The Parish Council are developing a Neighbourhood Plan, and are establishing a community based steering group. If you would be interested in getting involved, please email Councillor.stubbs@northawcuffleypc.org.uk;
Wells Farm have created a virtual exhibition, showing their plans for the site on Northaw Road (wellsfarmregen.co.uk).
Mission to Seafarers Cards
Because of the lockdown, Audrey Hearn will not be selling Christmas cards on behalf of The Mission to Seafarers this year.  She hopes to resume doing so next year.  If you would like to make a donation to the Mission, please send it to the charity direct, at:  The Mission to Seafarers, St Michael Paternoster Royal, College Hall, London, EC4R 2RL (www.missiontoseafarers.org).
Praying at Noon
Please can I encourage you, when possible, to stop at noon and spend a few minutes praying - we may be physically separate, but we can still pray together; we'll email out possible areas for prayer each week.  If you would like to make any suggestions, please email prayers@norcuff.com.
How to join us live
The website has the information on how to join our live services and virtual coffee.  Do feel free to share the links to our services with friends and relatives; everyone is very welcome to join us, no matter where they are in the world.