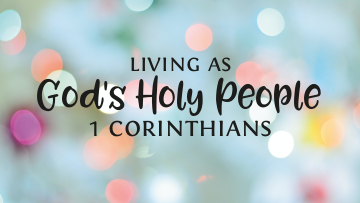 For the foolishness of God is wiser than human wisdom, and the weakness of God is stronger than human strength. (1 Corinthians 1:25)
From where do we get our wisdom? How do we know about God, about what God wants, and about how to live as God's holy people? Do we look around us, and get our wisdom from our culture and society? Or is there somewhere better?
You would be very welcome to join us at 10:30am in St Andrew, Cuffley, or at 8:30am in St Thomas, Northaw, this Sunday, as we continue to read 1 Corinthians together and see how Christians can know how to be God's holy people.
The 10:30am Sunday morning service will also be streamed.  This will start at 10:25am, and can be accessed directly via Facebook or YouTube, found on our website, and is advertised on our Facebook page and YouTube channel.
If you encounter problems with viewing the service via Facebook (or YouTube) please follow the link for YouTube (or Facebook) instead.
If you want to catch up with last week's sermon, it's available to listen to via SoundCloud.
Children's Church
Our children's church meets this Sunday morning in the Undercroft (underneath the main building). Children are welcome from 10:20, and will join us in the main part of the building at the end of the service.
Wednesday Morning prayer
You would be very welcome to join us for a short service of Morning Prayer in St Andrew at 10:00am on Wednesday morning.
Coffee Shop
Our weekly in person Coffee Shop will be taking place this Wednesday from 10:30 to 12:30 in St Andrew, Cuffley, you are very welcome to join us.
The Richard Coulter Lecture
This year's annual lecture is the Richard Coulter lecture. This will be on Tuesday 21st February at 7pm in St Thomas, entitled "Vanity and Joy: Life in Ecclesiastes". For more details, please see our website.
Foodbank
Our next foodbank collection this month is Wednesday 1st February. You're welcome to bring donations to St Andrew at our Sunday service or on Wednesday morning, or to be in touch with Gill Hall (gillhall2526@gmail.com, 01707 874872) to arrange delivery or collection.
Flowers at St Andrews during 2023
It is not too late to request a pedestal arrangement in memory of a loved one (e.g. for an anniversary or birthday). Please ask Judy or one of our flower team, for the specific date required. We will do our best to use any particular fresh flowers, and colours preferred. A donation towards the cost is kindly requested. There is a list at the back of the church for such requests.
Daffodils
We have been donated some daffodil bulbs for planting at St Thomas. If you'd like to help plant some of them, please be in touch with Chris, the vicar.
Praying during the week
We try to send out an email each week with suggestions for your prayers. If you would like to make any suggestions, please email prayers@norcuff.com.
How to join us live
The website has the information on how to join our live services.  Do feel free to share the links to our services with friends and relatives; everyone is very welcome to join us, no matter where they are in the world.